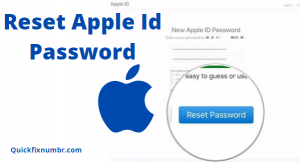 Handling passwords for different accounts isn't an easy task these days especially when we possess 10-20 different accounts. Even when you are using a password manager or other two-step authentication programs to auto-fill your passwords, there may be instances where you need to type in the Apple ID and password yourself. Hence, if you forget your Apple ID password then this 2 minutes step-by-step guide will help you to reset it instantly on different devices!!
How to Reset Apple ID Password using iPhone
If you are signed in to iCloud on your iPhone, then password reset is just a few minute's task. All you need to do is enter your passcode and then you can easily reset your password as follows:
Open your iPhone settings app and tap on your <name>.
Then select the passwords and security tab from the settings list
Now, choose the change password option and enter the 6-digit passcode
Once, the passcode is submitted correctly, you will be prompted to the password reset page.
However, if you don't have access to your iPhone or don't remember your passcode then you can easily recover Apple account on the Apple ID account page or on your friend's iPhone as per your own convenience.
How to recover Apple ID password on a web browser
First, visit https://appleid.apple.com/ on your web browser and choose the Forgot Apple ID or password option where you need to submit your Apple ID again.
Thereafter if two-step verification is enabled, then you need to enter the phone number that you provided at the time of account set up. Even if you don't have access to that number, just submit the number, and when
Apple asks you to enter the 6 digit code sent on this number, click on I don't have access to this phone.
After this Apple will ask you to enter your email address linked to your Apple account. Just enter the email and then submit the 6 digit verification code sent to this email.
Once, your verification is successful you'll be prompted to the password reset page.
If no phone number was provided, then you can also recover Apple account via security questions that were set up initially.
How to Recover Apple ID password from another person's iPhone
To start with, install the Apple support app on your friend's iPhone
Once the app is downloaded, open the app and choose the Passwords and security option
Thereafter tap on Reset Apple ID Password and choose to enter a different Apple ID
Then submit your Apple ID and then at the password page tap on forgot password
Then enter your email address linked to your Apple account you will get a 6-digit verification code on that same email.
Just enter this code in the required field and then you can create a strong new password for your Apple account.