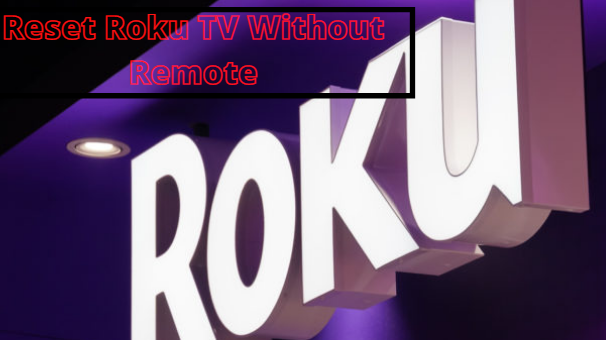 Losing your remote control is a typical problem that almost every family has experienced at some point.  It can be annoying when they don't know to reset Roku TV without a remote. Believe there are many things you can't perform on your Roku TV without control. Resetting it, on the other hand, is not one of them. Follow the steps if you're bored of your slow-processing TV and want to reset it but can't get to your controller for some reason.
Easy Methods to Reset Roku TV without Remote
Method 1: Performing a Factory Reset by pressing the Reset Button
While your TV is turned on, press the "Reset button" for nearly 10 seconds.
To indicate that your player is resetting, the light indicator will continue to blink.
Your TV has been successfully reset when the light stops blinking and turns off.
Method 2: Reset using Roku Remote App
If your mobile device and your Roku device are connected to the same wifi network, you can download the Roku remote app from the play store or the app store.
So, download the app and open it on any device you want to use as a remote.
Simply press the app's controller button to connect it with your Roku player, and your app will now function similarly to your controller.
By browsing to the advanced system settings on the app, you can reset your player.
Method 3: Reset using Remoku.tv
Remoku.tv is a web application that allows you to control your Roku TV. It works on any computer, Mac, Smartphone, tablet, or even an e-reader. If your player is connected to the internet through an Ethernet cable, you can use remoku to reset Roku tv without remote.
Following steps to be followed:-
Connect all of your cables to your television and turn it on. It would display a dialogue box with the message "Connect your remote" in it.
Connect your wireless network to the number displayed on your screen by going to your wireless network settings.
Go to remoku.tv on your PC and link your remote when you've finished this process.
You can easily factory reset it from the advanced system settings once you've paired it.